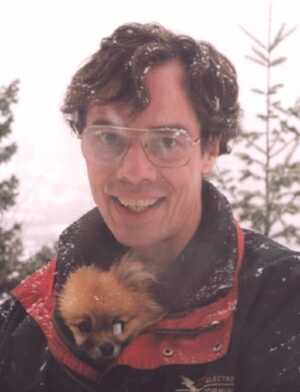 Frederick Norbert Nachbaur
March 6, 1951 - September 27, 2004
I took this photo of him to post on an online dating service, where soon after he met his wife. It was a lovely snowy day in Nelson, BC and we warmed up with hot chocolate at our favourite cafe afterwards. -Rhiannon

In Memory of Fred Nachbaur

Fred Nachbaur (53) passed away gracefully on September 27, 2004 after an inspiring battle with cancer. This site is now being maintained (and kept in its original state) by me, his daughter, Rhiannon Nachbaur Schmitt.
A selection of links I have discovered mentioning Fred's passing: Please feel free to submit
Noteworthy Forum - Recording - Real McTube
An Article I wrote during his illness
Xonata: 20th Century Music - Geek Zone
Choky's Pages - DVD-Software.info Forum Index: Tubes
Gregg, a tube friend of Fred's, wrote these kind words of sympathy on a newsgroup:
Fred Nachbaur, my dear friend and one of the greatest contributors to the vacuum tube hobby and Open Source projects and software, passed peacefully and painlessly from this earth at 0300 Monday morning, September 27th, 2004 after a very long, hard and bravely fought struggle with cancer.
Fred's accomplishments were many, including the published article "The Real McTube" appearing in Electronics-Now magazine. Fred's projects page can be found here: http://dogstar.dantimax.dk/
Fred was a central figure here on RAT where I met him. We exchanged several tube based ideas and discussions and we quickly formed a mutual respect for one another as fellow tube enthusiasts, fellow alternative musicians and most importantly, as fellow humans.
Living in the same province, I fortunately had the opportunity to meet him, entertain him at my home and exchange several telephone conversations with him. While primarily being a very private man, I felt honored that he felt comfortable to share so much with me. We shared a similar sense of humor, so no meeting was without a bundle of laughter. Fred and I shared many similar ideas that led to a fabulous friendship on a physical, mental and even spiritual level.
Fred was also generous. He would never turn a friend down in need of help, whether it was simple chit-chat, need of advice or sharing of his workshop goodies. If you did a trade box of goodies, you were more than likely to get a box stuffed with more goodies than you imagined in return.
There are very few people in life that when you meet them for the first time, you feel like you are meeting close family and treat each other accordingly. Fred was just such a man.
Fred's fondness of animals was also very pronounced, as when he entered my home, usually all but the "King Tomcat" hides. Our cats came to him like they knew him and just settled right into his lap.
Fred's battle was fought with great dignity, bravery and perseverance. He will be missed.
---